New Taipei City, Taiwan (2021.02.05) –
Thank you for always being a GREAT partner of AMTEK! In Chinese culture, 2021 is the Year of the Ox.
Ox were seen as a sign of enterprising, sense of responsibility, endurance. Therefore, we hope to bring a big success with all of our partners in the New and Prosperous 2021!
For more information or product inquiry, please visit our website:http://www.amtek-co.com.tw.
Please contact us anytime at web@amtek-co.com.tw.
Please be informed 2021 AMTEK Holiday Notices as below.
Chinese New Year Holiday-
HQ (Taiwan) : Feb.10th – Feb.16th
Factory (China) : Feb.7th – Feb.20th
Peace Memorial Holiday-
HQ (Taiwan): Feb. 27th to March 1st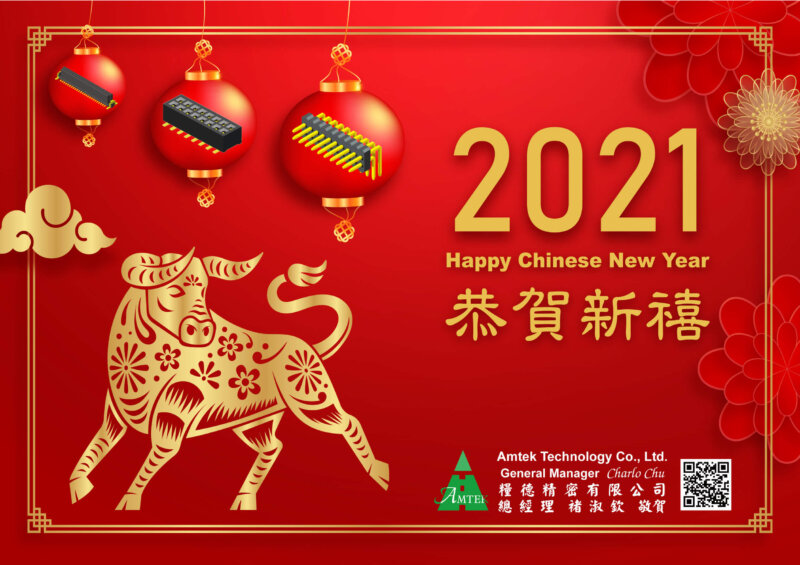 ---
About AMTEK TECHNOLOGY
Amtek Technology Co., LTD. was established in 1997 in Taipei, Taiwan led by CEO Charlo Chu. With rapidly service and excellent product quality and performance, Amtek has developed a leading company in Worldwide Electronics Market by only 22 years. Our main products include connectors, cable assemblies, terminal blocks, RF connectors and cabling which can be applied in smart phone, laptop, monitor, TV, STB and etc. Most importantly, Amtek also provides customized services to meet customers' various requirements. Currently, Amtek owns 250 employees and five factories in Taiwan and China. Our ultimate goal is making EVERYWHERE AMTEK!